Aqua Terrace Condo ~ Walk To Seattle Center ~ Remodeled & Professionally Decorated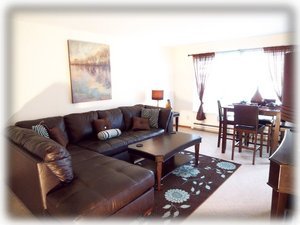 Aqua Terrace Apartment - Just 5 blocks from the Space Needle and Seattle Center! Remodeled and professionally decorated.

1 bedroom, 1 bath, sleeps 4.

Aqua Terrace has Free WiFi! Free street parking.

ABOUT THE LOCATION ~~

Welcome to your Seattle home away from home. This adorable condo is located a short walk (1/3 mi) to Seattle Center and 1.5 miles from downtown Seattle. There are plenty of neighborhood restaurants and shops, including a large grocery store (QFC) a couple blocks away. Less than a mile to Lake Union and Elliot Bay on Puget Sound.

WALK TO SEATTLE CENTER ~~

Spend days just exploring Seattle Center 5 blocks away! Visit the Space Needle, the Experience Music Project, the Pacific Science Center, The Children's Museum, Pacific Northwest Ballet, and the Seattle Opera.

Key Arena hosts a variety of events year round. Recent and upcoming shows include Rihanna, Rush, One Direction, Neil Young, Red Hot Chili Peppers, Jimmy Buffett, Harlem Globetrotters, UFC, college basketball, and more. Live in the Puget Sound area already? Make it a special romantic weekend getaway and walk to a concert and restaurants with your significant other.

The Seattle Center hosts several festivals each year including the Bite of Seattle, Bumbershoot Music and Art Festival (Labor Day weekend), Northwest Folklife Festival, and Seattle Center Whirligig for kids (April).

The Bill and Melinda Gates Foundation Headquarters, the world's largest charitable organization, is also just 1/3 mile away.

DOWNTOWN & WATERFRONT ~~

Walk to the monorail at Seattle Center and take the 2 minute ride right to Westlake Shopping Center at Fifth and Pine downtown. From there, walk anywhere in downtown, Pioneer Square, or down to the famous Seattle water front. Easily accessible is also Safeco and Qwest Fields, homes of Mariners Baseball, Seahawks Football and Sounders Soccer.

ABOUT THE APARTMENT ~~

The Aqua Terrace condo is tastefully appointed for your enjoyment while away from home. It feels like a high end hotel with the color palette of rich chocolate brown and soft aqua blue repeated throughout the apartment. With much more space than a hotel room, Aqua Terrace is priced competitively.

We have a full kitchen just remodeled and fully equipped for cooking.

Off the kitchen is a nice eating area for 4, and a beautifully decorated living room featuring a dark chocolate leather sectional with pull out sofa bed (queen sized) and a flat screen TV. There is plenty of space for visiting and relaxing after seeing the sights. Perhaps you'd like to set up your laptop and utilize the free high speed wireless internet.

Down the hall is a full bath with tub next to the bedroom which has a wonderful queen sized bed with luxurious bedding. Out the bedroom window is a peek-a-boo view of the Seattle skyline too. Queen sized air bed available upon request.

Reserve Your Seattle Getaway Today!

The Aqua Terrace apartment is an inviting place to return to after a day out on business, sightseeing, or visiting friends or family. It's the perfect spot for corporate or executive housing Your extended stay will be comfortable and you will surely want to return on your next trip to Seattle!

Aqua Terrace Queen Anne vacation rental is managed by Picture Properties Vacation Rental Management, where prompt and courteous guest service is our priority.