| | |
| --- | --- |
| Guest Comments | | Agate Beach House On Hammersley Inlet - Beautiful Puget Sound Water Front |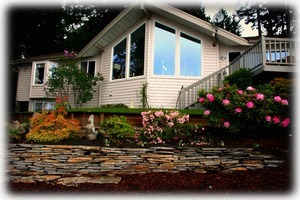 "Absolutely awesome. Just the quiet getaway we needed. Only complaint is the uncomfortable beds. Debra was the best!" - Lisa J., 04/06/2020 (VRBO Review)
So glad another guest has a nice time at Agate Beach House. This is the first comment we have had about the beds though. Thought that would be important to note that it wasn't a recurring issue - most guests think the beds are great. Thanks! Debra, Picture Properties
"Preparations leading to our stay were superb. Debra was very responsive when we had questions—always prompt to answer. The house was clean and accommodated our group of eight perfectly. We'd stay here again in a heartbeat." - Gary P., 03/03/2020 (VRBO Review)
"We had 8 adults and 2 little kids on our Christmas trip, and the house was a great size for our group. The property is gorgeous and the house is decorated beautifully and the kitchen is well-equipped with essentials. Waking up to the view of the water was a highlight. We did a day trip to Olympic National Park (1 hour drive) and had a great time hiking and exploring. We were very happy with this vacation rental and would stay again!" - Johanna P., 01/12/2020 (VRBO Review)
"We had a great time staying here. The location was perfect for our local family to come visit. We are planning to make this a yearly thing and plan to stay at this location if it is still available." - Wade C., 11/26/2019 (VRBO Review)
"Gorgeous views. Peaceful. Perfect for a getaway from the big city, or wherever you're coming from." - Kohl M., 10/24/2019 (VRBO Review)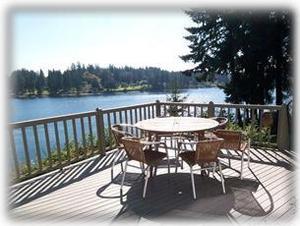 "Better than expected. Cool beach at low tide." - terri H., 09/28/2019 (VRBO Review)
"We had a great time full of amenities a quite place to unwind." - LORI C., 09/14/2019 (VRBO Review)
"Most everything was comfy/cozy and relaxing except for the eight legged crawlers in the basement living area. Our 12 year old niece freaked out and had to be rescued several(5) times by her dad or uncles. The rest of is thoroughly enjoyed all the home had to offer. The kitchen is well equipped, barbecue was clean, bathrooms clean and well stocked with tissues and linens. Though all the kitchen appliances were quite dated , they were all in working order. The vent in the master bathroom however, was not.. We did not use the jetted tub at all so are unable to attest to its function. Minuscule complaints aside, a good time was had by most! Thank you for sharing your beautifil home." - Lorraine B., 09/09/2019 (VRBO Review)
"Very nice rental property. We had 6 adults and 4 kids. The lower level was great for the kids. We were here for a wedding in Olympia and also spent a couple days staying in Seattle. Nice location in Shelton area for activities- we rented kayaks in Allyn, went to the High Steele Bridge and spent a day at Harstine Island." - Sharon A., 08/13/2019 (VRBO Review)
"We loved this property! Every morning, we could watch seals swimming in the water. There was a family of deer in the surrounding area. The house was decorated beautifully and well stocked with everything you could need. Overall, a perfect place for a family vacation!" - Alecia C., 08/07/2019 (VRBO Review)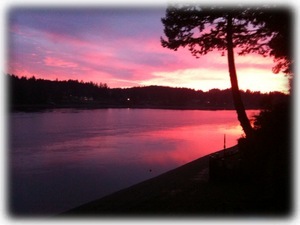 "Everything was comfortable, had everything we needed. The view was fantastic. Plenty of room for family or group of friends. Definitely would suggest it!" - Gail B., 07/15/2019 (VRBO Review)
"This was my first VRBO and it was such a pleasant experience. Everything was as promoted on the website, no surprises! The property location is gorgeous and so peaceful. My family felt very welcome and we were so happy to have a place to stay that met our needs. We loved the deck, sitting outside and watching the water flow in and out with the changing tides. We even had 2 seals entertain the children by splashing the water with a slap of their tails as they dived back below the surface. The indoor amenities met our needs and we enjoyed the varied decor throughout the house. Again, thank you for sharing your property. I will happily recommend this property to both family and friends." - BRENDA M., 06/19/2019 (VRBO Review)
"This was seriously the best place we have ever rented!!! The views were absolutely stunning and the home itself was exactly as advertised! It was stocked with basic necessities that we needed (paper towels, toilet paper, laundry soap, shampoo & conditioner etc.). It even had plenty of dishes, silverware and cups! The kitchen also had basic kitchen staples like some spices, coffee, Saran Wrap and foil! We flew in and packed light so it was unexpected and very appreciated to have these items already in place! When we come back to Shelton we will definitely be staying again!!! Thank you to everyone who helps keep this home in amazing shape!!" - Holly P., 12/21/2018 (VRBO Review)
"Nov 17-24. only had one beautiful sunrise. mostly rain. owner was prompt to fix malfunctioning thermostat. it is close to walmart... we needed somethings/food. they were a little short on hand wash cloths. yard crew came at 8 am on thursday. tv's in every bdroom and front room. some river traffic... smart seagull rode the load down stream. saw one seal and no orcas. Manager and clean up crew were very careful to keep things we left behind. we picked them up 3 days later. g-kids loved the down stairs. had a good time. kids cried when we left." - David E., 12/20/2018 (VRBO Review)
"We just stayed here for my Father in Law's 80th birthday party. East and West Coast families able to stay together in one place to visit and enjoy....and boy did we. For mid October we lucked out with the finest weather you could ask for which gave us just breathtaking vies of the inlet. I really couldn't take my eyes off the huge picture windows in the living room and from the Master where I was lucky enough to stay =) Super comfortable and finely appointed. Saw Sea Lions, Otters, deer and boats coming by. Really didn't want to leave. Will definitely come back" - Anonymous, 10/30/2018 (VRBO Review)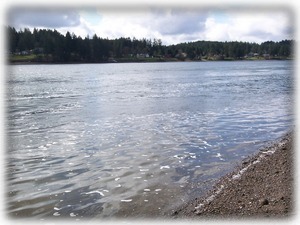 "We had a great weekend in this quiet, comfortable, well appointed house on the water." - Wellesley C., 10/15/2018 (VRBO Review)
"Everything was wonderful, The house was very nice. The only thing that put us off was the smell of the water when showering and brushing our teeth. Other then that if was very enjoyable." - Douglas W., 10/13/2018 (VRBO Review)
"From the welcoming front entry as we approached the front door to the relaxing, light-filled living room and views of the water and the star filled skies at night, it was the perfect place to get away with a few friends for a much needed R&R weekend." - Sarah C., 09/25/2018 (VRBO Review)
"The house, right on the water is quite lovely and the grounds and view are spectacular. The house must have been a show-stopper in its day but could use some updates now. It is well stocked with everything you could want with one exception. There is no comfortable seating anywhere. The two leather sofas aren't terrible but it's hard to see the tv from them. We had a mini family reunion and all in all, the house met our needs very well." - Jill Q., 09/07/2018 (VRBO Review)
"Our family VERY much enjoyed our stay at the Agate Beach House! The house came very well equipped with everything you might need! The beds were so comfortable, which is always important to our family when we are traveling! The views from the kitchen, living room and master were incredible! Home was clean and property management company did a great job taking care of all of our needs!" - Mischa W., 08/06/2018 (VRBO Review)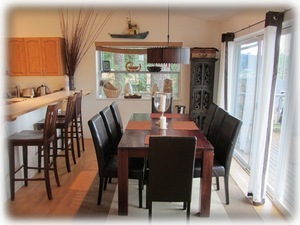 "First off when I entered the property it was beautiful, everything about it was perfect, if was fully stocked with all the basics, all I needed to buy was food. It was a wonderful relaxing stay and I am sure to book again." - Lisa F., 07/17/2018 (VRBO Review)
"Beautiful modern comfortable home on the sound for a group." - LeeAnn H., 07/10/2018 (VRBO Review)
"Beautifully maintained home and grounds with a lovely view of the water and ready beach access. Comfortable rooms and plenty of space for fixing meals and relaxing together with friends. Great kitchen will all the tools to prepare, cook and serve delightful meals. Lots of towels and extra sheets and blankets if you need them. Quiet, peaceful. Lots of wildlife: seals, fish, eagles, deer. We would go back!" - Michaeleen N., 05/20/2018 (VRBO Review)
"Gorgeous location enhanced by perfect NW fall weather. We loved the upper and lower decks to enjoy the magnificent views and the house was very clean and comfortable. Plenty of shared and private spaces. Gorgeous master bedroom and bath. Upstairs rooms spacious and beds were comfortable. Both firm and softer mattresses met middle-aged preferences. The basement rooms were spacious, but a little musty. Once the heat got going, it was better. The bunk beds were the only disappointment. Not very comfortable for adults—definitely meant for kids. Kitchen was well-stocked with any tool or appliances we needed. It was a perfect NW getaway! We loved it!" - Cristina C., 11/01/2017 (VRBO Review)
"The beautiful view was better than advertised and the Lord gave us an amazing weekend weather-wise! We made great use of the deck and access steps to the beach below. We reserved the home for 8 adults. The home lacked bedding, towels, washcloths, and kitchen cloths to accommodate this number of people. The living room furniture, while appealing, was uncomfortable and only seated 4 or 5. Over all, I'm not sure I'd recommend this house." - Rhonda L., 10/22/2017 (VRBO Review)
We are surprised to receive this review. 8 adults is indeed the absolute max we'll allow in this 4-bedroom 2300 sq ft home. We do have plenty of towels and bedding (the bedding is on the beds, and we have extra linens for the airbed). And we seat 3 on each sofa, plus there is a small ottoman. You can clearly see the living room furnishings in our photos. We also do seat 8 at our dining table. Would be easy to grab a couple leather chairs from the table to bring to living room. This is the first feedback of this type we have ever received from anyone (in a review or otherwise) and we have been hosting guests at Agate Beach House for 7 years. Please let us know if you have any questions. Thanks! Debra, Picture Properties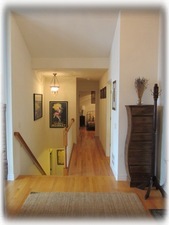 "Lovely well appointed home with a beautiful view. We were a group of 6 adults enjoying a relaxing getaway together. We had fun looking out for the seals swimming by. The house is nicely furnished and has everything you need." - Eileen P., Seattle, 10/14/2017 (VRBO Review)
"We loved this place and didn't want to leave. It was the perfect spot for our mini family reunion. We had 2 families plus our Mom who was visiting from CT and we had perfect weather. Even though it hit 90 degrees, the house is set in the woods and stayed cool. There were plenty of fans to cool it down at night. The view is stellar! The kids (9, 4 and 2 years) loved beach-combing at low tide and spotting seals. The rooms were comfortable and the kitchen is well-provisioned and dining options were perfect. The neighbors are very nice and willing to share stories about how they are raising oysters on the beach and about how the slapping noises we heard are seals slapping the water to stun the salmon. We enjoyed swimming, kayaking and paddle boarding. The location has a lake feel because of the trees, but with all the Sound goodness of tides, crabs and sea life. We will definitely come back." - Kitty P., 09/19/2017 (VRBO Review)
"Best kitchen ever, so impressed with everything. Thank you" - Kim H., 09/11/2017 (VRBO Review)
"Amazing, peaceful, private and beautiful. Great for relaxation." - Trish B., 08/27/2017 (VRBO Review)
"The Agate property exceeded our expectations. We had a small family reunion of 5 adults and three children. The house was found very clean and all of us were well accommodated -- sleeping, eating, relaxing. The furnishings, view and gardens were beautiful. Kitchen had everything we needed, and more. Washer and dryer in a laundry room next to the kitchen was very convenient. Windows and deck provided very nice views of the water. Beach access down a couple of flights of stairs was adequately convenient. We will likely rent again." - David E., 08/19/2017 (VRBO Review)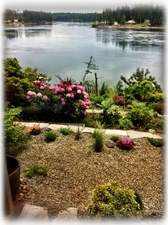 "We just came back from a wonderful vacation on our family trip to the Pacific Northwest. The Agate Beach House was beautiful! The house was fully furnished with anything a family could ever want or need. Sleeping at night with the windows open and the cool air blowing off the Puget Sound was so very nice. Our family truly enjoyed our stay. We visited Mount Rainier and Olympic National Park. We took the ferry from Nearby Bremerton to Seattle for a great day trip and a Mariners and Yankees ballgame. Also spent great family time at the home enjoying the beautiful beach and amazing views. We kayaked and paddle boarded and made memories that will last a lifetime. Our son even proposed to his fiancee on the lower deck at sunset. She said yes!!! Big thank you to Debra for an easy check In and checkout and her advice on the weather and the Shelton area. Will definitely return!!" - robert h., 07/27/2017 (VRBO Review)
"Had a wonderful peaceful vacation. The house is beautifully decorated and very comfortable." - Aditi S., 07/18/2017 (VRBO Review)
"Stayed here for Thanksgiving and the house was perfect--beds comfortable and house impeccably furnished. Amazing artwork everywhere and beautiful view of the Sound.. Kitchen very well equipped and stocked and was a pleasure to cook Thanksgiving dinner here. Would highly recommend. All questions addressed by property manager very quickly. Highly recommend Smokin Mo's in Shelton!" - Paul O., Portland OR, 12/09/2016 (VRBO Review)
"The Home has everything. Feels like home. We had a great stay." - Jill G., 11/16/2016 (VRBO Review)
"We chose this place to stay during Oysterfest weekend to accommodate three couples. If you are looking for quiet, seclusion, privacy, fantastic views, saltwater beach, then this is the place for you! It is remote, but more than worth the twenty minute drive from Shelton. We were treated to jumping porpoises, harbor seals, seabirds, eagles, and a couple hummingbirds checking us out while greeting the sunrise over coffee on the deck. The kitchen is well-supplied with cookware, dishes, and plenty of glassware for a weekend of meals if you just want to stroll the beach or relax at home during your stay. The kitchen, dining area, and living room all offer wonderful views of Hammersley Inlet. There was a small supply of firewood on the front step for the living room fireplace which was perfect for taking off the chill after a wet day at Oysterfest. Klay's Burger Shack (best halibut burgers on the planet!) and Spencer Lake Tavern are ten minutes away if cooking dinner is not on your agenda. We highly recommend Smoking Mo's BBQ (we grabbed some takeout to enjoy at the house) and The Strip steakhouse (reservations recommended) in downtown Shelton." - Bob B., Goodyear, AZ, 10/21/2016 (VRBO Review)
"What a little gem! We had a wonderful time at Agate Beach House. Being from MN, we werent accustomed to tide waters so it was really intriguing to watch the change in water level. Lovely neighbors on both sides shared so much information about the tide, clam bags, oyster/clam bakes, and the surrounding area. The location was ideal for us as we had planned on traveling both to Seattle as well as to the northwest coast. It is quite a drive to Seattle. So if you are planning on spending a lot of time in the city, plan on driving. We drive to Bremerton to catch the ferry to Seattle one day and that was an enjoyable way to travel to Seattle! But other than two days in the city, we drive west and visited the Hoh Rainforest and Rialto Beach area. Both amazingly beautiful experiences! Coming. Back to the beach house was welcoming with its beautiful views of the inlet. Very quiet and peaceful. Watch for a variety of boats coming through. Barges, tugs, fishing, sailboats. The grounds around the home are stunning! A little walk down to the water through the foliage is really pretty. It's a ways down to the water but once down it's fun to hunt for special rocks and treasures. If I had to comment on any negatives I guess it would have to be the fact there is no a/c in the house. It was a pretty warm week when we were there and got a little warm in the house at times but nothing that would ruin our stay. Also, the mattresses were quite harder than what we were used to. Again, just trying to give someone some honest information. The three bathrooms was a treat! I do wish we could have been down on the beach at any given time but I realize it doesn't work that way with the ocean water. Overall we all had an amazing time and this house was a great place for us to gather and plan all our NW adventures!" - Jill T., 09/07/2016 (VRBO Review)
So glad these guests had a nice time and that they got to experience tides for the very first time. As we northwesterners know, AC is hard to come by around here. None of the houses Picture Properties manages have AC. That is because we rarely need it around here. Of course, we do not advertise for AC and had they asked, we would have made it clear. This has not been an issue with guests in the past, so don't worry! Thanks! Debra, Picture Properties
"We stayed at this property with 3 children and 6 adults. The house was nicely furnished with tasteful decor, comfortable, clean and the internet worked well. The kitchen was well stocked and we enjoyed eating meals on the upper deck, just outside the kitchen, overlooking the water. There's a small convenience/grocery store very close by for quick needs (basics), although we planned day trips to the Olympia Farmer's Market and Taylor Shellfish for fresh local seafood and produce. The kitchen was VERY well equipped, far more so than any other vacation home we have rented. There are plastic plates and utensils for the children as well as ample serving pieces and cooking gadgets. There are great water views, regardless of weather or time of day. We enjoyed a gorgeous sunset from the lower deck one evening. The gardens were lush and just about to bloom when we stayed. Our kids loved playing on the beach, where they spent much time throwing oyster shells into the water and turning over rocks to look for baby crabs. The air was so clean and refreshing, we slept with the windows open every night and could hear only the wind blowing through the trees. I agree with many of the other reviewers, the view over the inlet is spectacular and I look forward to returning again soon to this special place." - Anonymous, Blacksburg, VA, USA, 08/23/2016 (VRBO Review)
"The house itself was very nice. There were a few glitches but Debra at picture properties was very responsive. If you want a quiet getaway to relax and admire the view it is great. Having four grandkids under 7 it was not a real kid friendly place from a matter of the decorations, had to move many to closets so no accidents would happen. The inlet when the tide is out is not really an area for swimming, many oyster nets lying on the beach that were full producing a bit of a smell. When the tide was in, small beach area but water appeared much cleaner. There is not much to do in Shelton so we traveled over an hour to do things with the kids. One thing I was surprised after having used VRBO/ Homeaway was that the house slept 10 people but we were charged $10/ person/day for any over 6. This has never happened with us before. In our opinion the property for the area was over priced. Would not return to house or Shelton area in general" - Nancy P., 08/23/2016 (VRBO Review)
I spoke with this guest after their stay and asked if they had ever stayed in the Puget Sound area of Washington before (they were from out of state). They said they had not, so really were not able to compare pricing at this specific location to other homes in the Puget Sound area. This house is very competitively priced for this area, and they admitted they really didn't know this area at all as far as vacation rental prices. This home is priced the second lowest (out of 4) that Picture Properties manages in this immediate area. No other guests have made that comment. Also, if you are at all familiar with Puget Sound beaches, you know that when the tide is far out, the beach water is a little more muddy/mucky. When the tide is in more, the water is quite clear. Really, just typical Puget Sound beach. I am a native to the area, so please do not hesitate to ask any questions. Perhaps they were picturing a nice sandy beach? Our policy of charging a minimal fee of $10/person/night over 6 is pretty typical of vacation rentals (and quite minimal for larger groups), and is clearly posted on our rates page and was clearly disclosed before they ever booked. Never have heard anything before (or since) this about anything \
"We had a lovely family time with three generations, enjoying the great location, beautiful view, and water activities. The house was clean and provided a nice space for the children to play downstairs in the bunk room/playroom. The two decks were wonderful spots for watching the water activities, including seals and barges. There were plenty of supplies (towels, toilet paper, etc.) which was nice. The kitchen is stocked well with pans and dishes, but lacked a simple spatula for turning burgers, etc. Also missing were potholders. The barbeque on the deck was not very effective, so after struggling to get hamburgers to cook the first night, we opted to use the oven for the second night's entree. Our main complaint was the bathrooms... the two shared bathrooms were small, and the showers were not very good. Neither the showers or the bathtub in the master drained very well. We could not understand why a master bath would not have a shower, and this was not convenient, but we managed just fine. We loved the pretty gardens surrounding the house, and overall had a very nice stay." - Barbara M., CORVALLIS, 08/13/2016 (VRBO Review)
We found out about the slow drains from the next guests and addressed them same day - solved. It's always best to contact us during your stay rather than in a review afterwards, since most things we can fix either same day or next day. All things in this review will be addressed quickly (except there is only a soaking tub in master bath, but there is a shower upstairs on same floor across the hall). Please let us know if you have any questions. Thanks! Debra, Picture Properties
"Deciding on the Shelton area was a brilliant decision - choosing this property was an inspired choice. Perfection in every aspect, from the idyllic situation on Agate beach to the beautifully furnished and immaculate house. Nothing had been forgotten. The well equipped kitchen was the best we have ever had in a holiday home. Amazing views from every angle and as far as the eye could see. Huge windows across the living area and then the wooden decking looking over the inlet and the garden - perfect for morning coffee and an early evening glass of wine!! Such care and thought had obviously gone into every aspect of the house, both inside and outside. Then a few steps and down on to the beach to take advantage of the memorable walks in such peace and privacy. Thank you for a holiday to remember." - Dorothy W., 07/18/2016 (VRBO Review)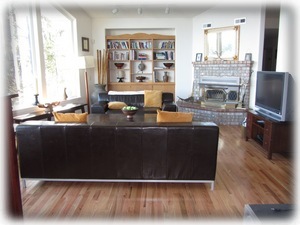 "The house was nicely outfitted and had beautiful views. It was easy to find and the fireworks on the 4th of July weekend were spectacular to watch for 3 nights.. The beds were super comfy and with nice sheets and plenty of blankets were there. The kitchen had great accessories and the cooking utensils and pans were great. The pictures were exactly like the house showed and it was clean and comfy. The negative was the bathrooms. First the septic system in all bathrooms smelled bad and needed to be treated and in kitchen. Septic gases were nasty and coming up through the pipes. . The master bath does not have a shower and the tub was slippery in the other bathroom. I would of given this rental a 5 star if it weren't for the bathroom issues. I am sure the owners will be resolving this otherwise the place would of been perfect." - Carmel O., Colorado Springs Colorado , 07/11/2016 (VRBO Review)
Glad this guest had a nice time. After they left they told us about the issue (wish they would have told us when they arrived!!). The owners sent someone over to take care of it. Pea traps were in working order, which prevents septic gasses from coming from pipes. They must have smelled something else. Previous guests didn't mention anything, nor did housekeeper or neighbor - thought it should be noted. Thanks!!
"We were at this property with our family of 7 -- 4 adults, 2 toddlers, and a waddling baby -- and the place was great! The space allowed us to keep an eye on the kids, and after some brief child proofing the space worked beautifully. The house was clean and well stocked, all communication was clear, prompt and friendly, and the 3 minute walk down to the beach is a bonus! The moon that rises at night above the living room floor to ceiling windows is spectacular. We look forward to returning!" - Agnes K., Seattle, 06/29/2016 (VRBO Review)
"The house was perfect for our family gathering. It is a little dated in terms of the kitchen and bathrooms, but beautiful deck view and access to the sound. We had a terrific time." - larry o., 06/23/2016 (VRBO Review)
So glad this guest had a nice time. Decor is very nice, and the photos represent the house very well. Let us know if you have any questions. Thanks! Debra, Picture Properties
"We rent in the Shelton area often because we have family there and this is by far one of the nicest. The views from the Deck are second to none. The house is beautiful, spacious and well appointed. Everything you need to enjoy your stay and more. Wall to wall windows in the living room and Dining room provide you with an awesome view of the inlet and the beautiful garden. The garden was my favorite part. Tastefully done with surprises around every corner. We enjoyed walking it each morning as we enjoyed our coffee on the lower deck. the kitchen was well stocked with everything you need. We were 4 of us Renting and we had our niece and nephew stay a few nights and the rest of the family came and went. They all commented on how this was one of the best properties we had rented so far. Our stay was so relaxing that leaving was hard. We will come back to Agate beach during our next visit and we will recommend it to our friends. Lastly Debra the manger was very friendly and accommodating. A true professional Thank you Debra for allowing us the pleasure of staying at Agate Beach." - Geri G., 05/16/2016 (VRBO Review)
"The pictures do not do this house and property justice. The house is nicely decorated, the kitchen was well-stocked, the linens fresh and clean, and the view is unbeatable! There were four adult women and two toddlers, and the rooms and bathrooms were just right for all of us. The toddlers enjoyed throwing rocks on the beach and having lots of room to spread out their toys. We did go into Shelton to two parks, which weren't quite as nice as we had expected, and the food and service at one of the local seafood restaurants were lacking. But those were minor things. If you are looking for peace, tranquility, enjoying morning coffee on the deck while you listen to the birds and look out on Hammersley Inlet, this will be the perfect setting. In addition, Debra at Picture Properties was courteous, prompt in answering emails or phone calls, and great at helping solve our first day entry problem. I highly recommend this VRBO home." - Jeanne B., 04/15/2016 (VRBO Review)
We are so glad this guest had a wonderful stay at Agate Beach House. I am not sure which restaurant they were referring to, but that is too bad and not something we normally hear (or experience). We highly recommend Smoking Mo's. Delicious authentic southern BBQ located in the historic 1915 State Bank of Shelton building. Let us know if you have any questions. Debra, Picture Properties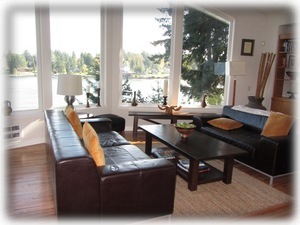 "We spent 3 wonderful nights here. Loved every minute of it. Tastefully decorated and the kitchen has everything a coin could imagine. We have travelled the world with VRBO and this place far out does every place we have been on so many levels. The view is serene and changes constantly. We saw seals from the deck but we missed the Orcas the neighbor saw by only a few minutes, totally unexpected. Plan to return next year. Thank you for a lovely getaway." - Michelle M., Wiltshire, England, 09/27/2015 (VRBO Review)
"We were looking for a relaxing place to spend time with our two daughters and their partners and this fit the bill. The home has a lovely view and a great beach for long walks. It had everything we needed for a weekend of visiting, playing games and watching the Seahawks game." - Constance C., University Place, Washington, 09/21/2015 (VRBO Review)
"We rented the house for our family vacation, 4 adults and 4 children. The house can comfortablely accomendate two more adults and two more children. It's a beautiful house (and tastefully decorated) right on the beach. We had a great time enjoying swimming in the bay and playing on the beach. The kitchen is well equipped, 3 bathrooms are enough to avoid jam, the laundry room is spacing for folding... We had a little incident when we first arrived - the alarm wasn't turned off, the ear piercing sirense went on and off for almost a half hour without being able to turn off with the code we were given. The place had very weak cell reception, so the calls we made to the agent and the agent made to us were not received. Thanks to the very helpful neighbor who came and set it off. The owner and agent were very gracious, even offered compensation. But we didn't feel the 30 minutes stress should grant us such a payment when the pleasure we got out of the house was so overwhelming!" - Jenny L., 08/16/2015 (VRBO Review)
"We recently spent three nights at the Agate Beach House while in town to attend a family wedding in Shelton. There were 4 adults and 5 tween-teenagers. The home was just the right size for our little family gathering. The home is nicely appointed, very comfortable, clean upon arrival with fantastic views. I might add that there was everything you ever need and more in the kitchen. Would love to be able to come back!" - Kathryn B., Sacramento, CA, 08/10/2015 (VRBO Review)
"This house was awesome. It was very clean, well stocked and incedible views of water. Was a central location to tourists locations and very comfortable for 3 adult couples. We all enjoyed our stay! Highly recommend it." - Keleen A., Marysville, WA, 06/25/2015 (VRBO Review)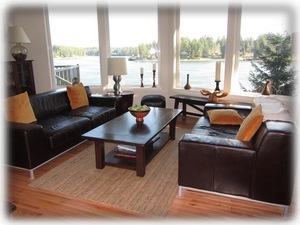 "We rented this house for a family Christmas get together and it was fantastic! Beautiful views, nice beach access (at least during low tide) and a nice open living area made this the perfect house for our weekend." - Dane M., 01/05/2015 (VRBO Review)
"We had a really fun girls weekend at the Puget Sound Beach House. The place is really nice and comfortable with plenty of room and a gorgeous view!! We will definitely come back again. One thing to note is to print out directions before hand. If you don't have Verizon the cell service is spotty and you cannot depend on your GPS to work the closer you get to the house. Thanks for letting us enjoy the beach house :)" - Dawn F., Seattle, 11/14/2014 (VRBO Review)
"We did enjoy or stay at the Agate Beach House the home is beautiful and the view wonderful. The beds were comfortable and well stocked with blankets etc. Everything we needed was available. This is great place for adults would recommend board games and some beach toys if bringing young children." - Darlene W., 10/20/2014 (VRBO Review)
"A bit off the beaten path with lot's of people arriving at different times and house accommodated it all beautifully. We very much enjoyed our stay and with luck will be able to stay again next year. Thank you to whomever opened their home to us." - Annieoakley, 04/10/2014 (VRBO Review)
"Thank you for sharing your beautiful home with our family! I can't say enough about the gorgeous location. Quiet and serene. Beautiful views. Our kids absolutely loved playing on the beach and exploring the shoreline. The house is well-appointed with very comfortable beds, the most well-stocked kitchen we've had in a vacation rental, and a great layout. Great central location to hiking, good restaurants (we liked Olympic Bakery and Smoking Mo's), and the local racetrack. But, you don't even need to leave the house to enjoy hiking and the water. Buy some seafood at Taylor's Shellfish or dig for clams on your own and you're all set for a great day at the house. We especially enjoyed sitting on the lower deck on the warm sunny spring days. Should we journey to the Puget Sound again, we will definitely stay here!" - Michele B., 03/30/2014 (VRBO Review)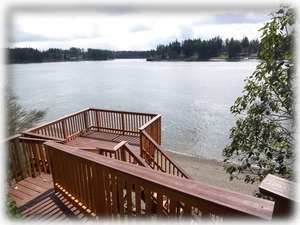 "My girlfriends and I stayed at the house for a scrapbooking retreat. We especially enjoyed watching all the activity on the sound and saw a seal and a ton of jellyfish! The house is beautiful and we had everything we needed. Thanks for the good memories!" - Trista R., 11/28/2013 (VRBO Review)
"The home faces south on the Hammersly Inslet, and the view off the deck is beautiful. There is a trail down to the gravely beach, and we had fun walking in the morning low tides, turning over rocks and finding lots of little crabs scurrying back under rocks. The kitchen is incredibly well stocked with every pot and pan, serving dish and even a professional waffle iron, and is perfect for hosting. Everything needed from soft towels to firewood to area brochures was available. There was a decent selection of movies downstairs in the comfy game/family room. The beds were comfortable, and the downstairs bed is a memory foam mattress. My husband loved the soaker tub in the master, and my son loved all the space. We invited another couple to join us for the last evening because there was so much space, and they were so impressed and amazed with the home. Also, there was one issue with one of the beds, but a quick phone call to the manager when we got home got it fixed for the next people staying. She was pleasant and responsive. We had an excellent time, and we will definitely come back should the opportunity arise." - Kimberly L., Mountlake Terrace, WA, 11/23/2013 (VRBO Review)
"Members of our family have this to say: The listing description was more than we expected. So clean and well kept! We had very good communication with the owner prior to renting the home and were so pleased with them and the rental. I'd recommend this to many of my friends who travel like we do. The house suited our family well. Everything was in great order. Simple access to the beach. Beautiful view from the deck and front rooms. Well-stocked kitchen. All in all, a fantastic getaway. We are considering a longer stay at the house next summer. Loved the place, well cared for. Well stocked with almost everything we needed; certainly more than we expected. Would definitely return. Beautiful home and grounds, views, beach, etc. The downstairs was perfect for the little kids. Spacious and well-appointed. Want to return. Recommendations – the pillows were really the only thing I didn't like about the house." - Juanie, Seattle, 10/20/2013 (VRBO Review)
"We have rented many rental houses before but very unfortunate to say that this is the WORST experience that we had among all. The reviews from various guests were also quite positive which explains the reason why we decided to stay here. However, we were overly disappointed at what we experienced here. When we entered the house, we were excited as everything looked fine at first glance. Then we were welcomed by dirty, un-cleaned BBQ grill. When we informed this to management(emailed them that dirty pic), we got a polite reply saying \" - VJ, Atlanta, GA, 09/17/2012 (VRBO Review)
PLEASE READ THIS RESPONSE! This was definitely our WORST experience with renters over the last several years and 1000's of guests at all our vacation rentals. This guest's review is not accurate and VRBO should be removing it. Because we had to retain their $400 deposit (first time ever having to do this), we expected a retaliation review. The damage was much more than $400, but we did not bill them for additional costs. The owner is STILL incurring more costs actually. Yes, the water was out from 9pm to 12am on night two, as was the water of everyone in the area due to a county water issue (county officials went around knocking on everyone's doors explaining this). After being there for 24 hours, the guests reported a \
"Luxury setting for family gathering! Access to amazing beach and tidepool type sealife! The kitchen was better equipped than my home kitchen - loved it! Comfortable, clean and easy access - we will do this again..." - Anonymous, San Clemente, CA USA, 08/08/2012 (VRBO Review)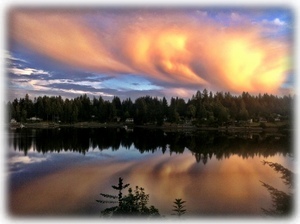 "We couldn't have picked a better weekend to stay at this place. Besides the right timing, the beach house was nicely kept, beautifully decorated. The amenities were plentiful. Although we had neighbors (whom we made friends with), the house was secluded and very private. We enjoyed summer bbq in the backyard with beautiful view of the inlet. We were able to harvest clams on the beach for dinner. At the end, we didn't want to leave. The owner was also accommodating with our request for early arrival (a plus). During our stay, we rented paddle boards. They were delivered to and picked up from the beach house. Although the current was a little strong for ideal paddle boarding, we had a great time. We definitely would come back again." - Anonymous, 07/11/12(HomeAwayConnect Guestbook Entry)
"We thought the house was pretty much as you saw in the pictures. The second bedroom bed was a little low to the floor and didn't have a TV just in case this matters to you. The bathroom downstairs didn't seem to have been cleaned properly since there was hair in the shower still. This was our first trip to WA and it wasn't the best location for us because it was to far from Seattle and the Olympic National Park. The view was pretty from the living room but was hard to watch TV in the morning because the glare was to strong. It was nice and quiet on the beach." - Connie B., Florence, KY, 04/19/2012 (VRBO Review)
"I would highly recommend this place to anyone. My family and I really enjoyed our time here. The place is spacious, has great views, and has easy access to a wonderful and very private beach. Each day, when the tide went out the beach was covered in starfish. It was beautiful and my son especially loved it. It is very peaceful - far enough from Shelton to feel secluded but still close enough to easily get into town for dinner or groceries. A very good find!" - Lindsay, Alexandria, VA, 08/17/2011 (VRBO Review)
"I would highly recommend this place to anyone. My family and I really enjoyed our time here. The place is spacious, has great views, and has easy access to a wonderful and very private beach. Each day, when the tide went out the beach was covered in starfish. It was beautiful and my son especially loved it. It is very peaceful - far enough from Shelton to feel secluded but still close enough to easily get into town for dinner or groceries. A very good find!" - Lindsay, Alexandria, VA, 08/15/11(HomeAwayConnect Guestbook Entry)
"We found this place to be very clean, & with exceptional views. Enjoyed our stay immensely. 3 from OH, 3 from CA. Plenty of room for the 6 of us to cook, & relax on the beautiful deck. Kitchen very well equipped." - Cynthia Schnierer, Pleasanton, CA, 07/27/11(HomeAwayConnect Guestbook Entry)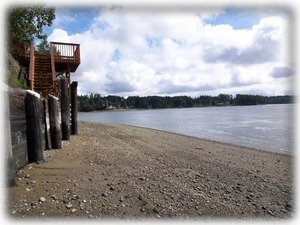 "We rented this house to have a beautiful, serene, environment to remember a loved one we had lost. It was perfect, you can see God everywhere! The wall-to-wall windows gave view to the beautiful water outside, along with the wonderfully landscaped yard. When the weather permitted, we were on the deck taking in the view. The basement had so much room for the kids to sleep and also had beautiful views to the outside. The kids and adults had fun exploring the crabs and starfish on the beach. The manager was very accomodating when we asked to stay one more night. We did not want to leave! I highly recommend this house to anyone." - Peter G., Long Beach, CA, 04/29/2011 (VRBO Review)
"Spent the last few days of 2010 relaxing at the Agate Beach House! The mean living area was perfect for puzzles, reading, movies, and just watching the sun rise and set. Views are spectacular! Bedding and jetted tub are extra nice (but be sure no one is asleep downstairs before turning on the loud jets)!! We would have liked the kitchen to be a little more stocked (especially dish towels, coffee mugs, and cooking basics like oil, flour, etc) but those things will surely come as more guests stay at the house. Overall a very nice way to end the year!" - Bethany P., Snohomish, WA, 01/14/2011 (VRBO Review)
We are glad this group had a wonderful time at Agate Beach House. We have since provided many more dish towels and coffee mugs. We have a few cooking essentials (salt, pepper, a few other spices, sugar, coffee) - whatever is typical for a vacation rental. Plus, there is the Agate Store just a few blocks away for any cooking needs. Thanks!